It's been a while, humans.  While I would actually love to be able to say I've just been so busy that I haven't had time to sit down with you all, unfortunately the reason is MUCH more of a pain in my ass.  Actually, it's pain literally everywhere.  See, years ago I was diagnosed with fibromyalgia.  Essentially, I hurt, everywhere, to varying degrees, all the time.  There are medications and treatments that they try to help mitigate the condition somewhat, but the bottom line is that fibro itself isn't that well understood yet, and they can't cure it or do much more than try to treat the symptoms.  Several months back, I started to experience significantly increased, debilitating levels of pain, along with increased frequency of migraines.  Dealing with that day in and out is, quite simply, exhausting.  So after months of testing to figure out what was wrong – as I have a family history of other issues that they wanted to rule out – it was finally determined that my fibro has advanced in severity and intensity, and in addition, my nervous system is actually more responsive and acute than most – top 4 percent of people, from what they've said.  While normally, I'd be thrilled to be in the top percentile of anything, when it means you feel exponentially more pain from your CONSTANT FUCKING PAIN DISORDER, it loses its charm.
All that to say…I have to accept a higher level of pain as my new "normal."  And that has sapped most of my waking energy lately.  So the updates have been very sparse, and may still be for a while – but I promise they will keep coming when possible!
But while I've been laid up I've found some ways to spend my time – like, for example, the digital crack that is Stardew Valley on the Nintendo Switch.  Yes, my cat Zero and I have started quite the cozy little farm, creating mayonaise and cheese and trying to win the love of the dark gamer girl Abigail.  Sadly, art imitates life – and she wants nothing to do with me.  Goddammit.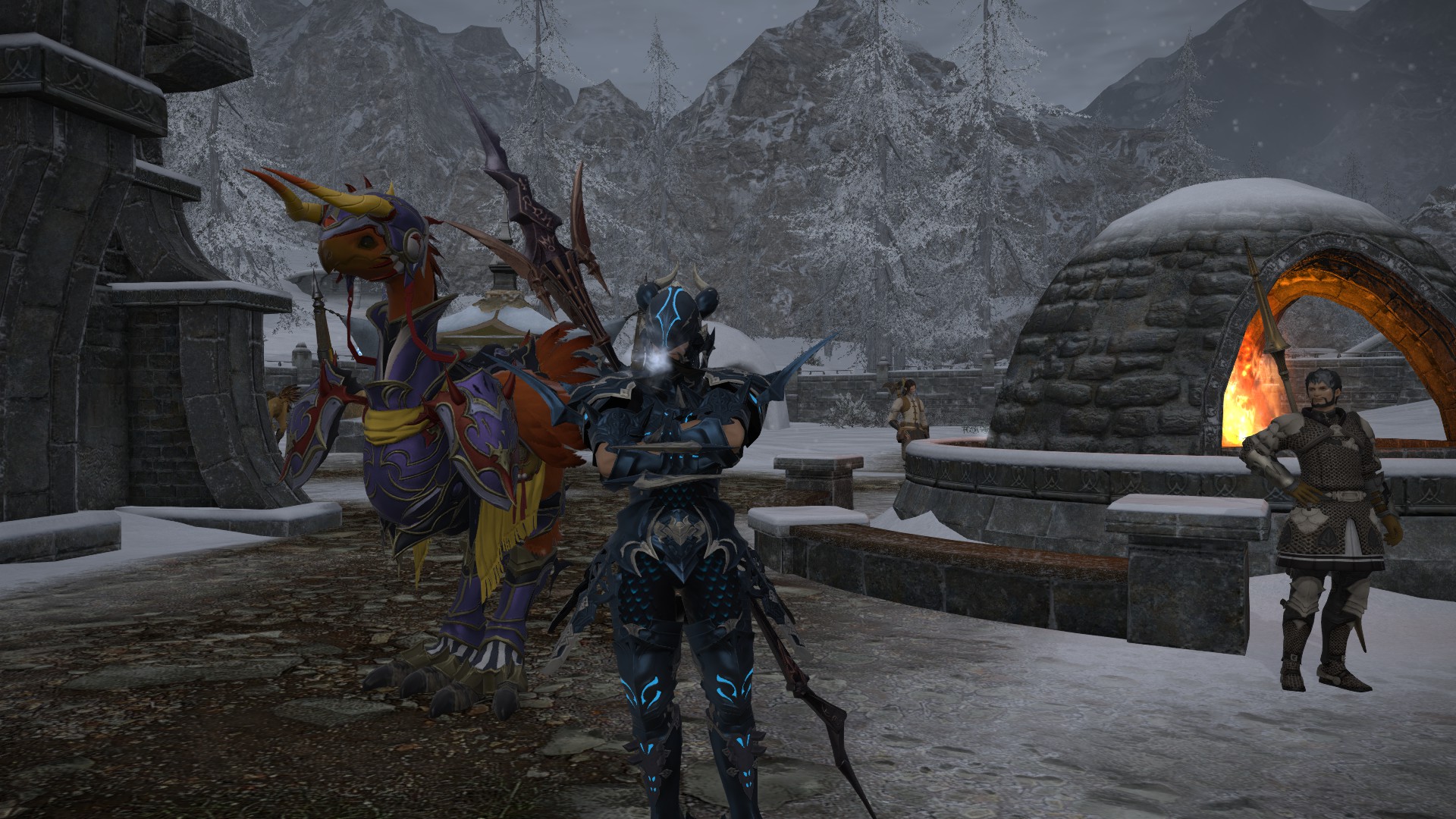 I also decided that, in order to fully immerse myself in the storyline of Final Fantasy XIV: Heavensward, the ideal class to play was Ishgard's own Dragoon.  So after some intense grinding to get my level up to snuff, I can say it was well worth it, as much of the lore and history of Ishgard and the Warrior of Light's quest there is inextricably woven with the Dragoons themselves.  While by no means do you NEED to play as a Dragoon to appreciate the story, I've felt much more of a connection to the characters and their struggles as one of the high-flying dragon-slaying knights than I would have otherwise.  FFXIV remains my favorite MMO of all time – and I've played many – as well as one of my favorite FF games ever – and I've played them all.
Getting tired (and pissed off for being tired) but before I go for now, one last tidbit that caught my attention, and that is that sleeper-hit SRPG God Wars: Future Past is getting a full story DLC expansion in Japan.  The main game made its way to the West on PS4 and Vita and was one of the best SRPGs I've played in some time, so here is hoping that the DLC makes it here (for Vita especially since that's what I played it on) as well.
Now, it is time for meds and trying in vain to actually sleep for a while before giving up and playing a game while watching Dragon Ball Super all night and being exhausted tomorrow.  This isn't a cry for help – it's just my natural state now.  Actually…that might be a cry for help.  I don't know anymore. – EWE