Ah, some sleepless humans have come to join me!  Welcome, fellow sufferers of eternal exhaustion.  This is the little corner of the blog where your favorite sleepless wizard, old EWE himself, tries to find a way to pass the hours before the sun comes up and he's forced to go pretend that writing to all of you isn't his real passion and calling.  So, what should make the cut for our slice of nocturnal gaming nourishment tonight?  I believe we've settled on Ys Origins, available on Steam and PS4.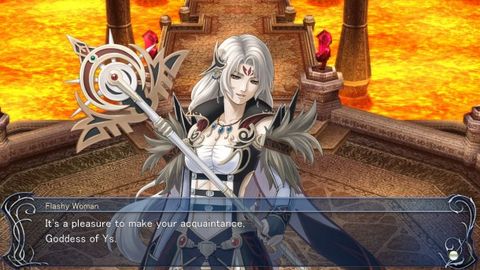 Ys Origins, as the name implies, takes the long running series of adventures by hero Adol and sets them back far before the time of Adol, or any of the other running characters in the main series and instead tells a somewhat more self-contained story that limits the scope of the world to one immense and expansive tower and the power it contains within it.  Two Goddesses have been kidnapped and are on the  run from the evil forces of darkness, and it is the forces of he traditional defensive order that begin to dictate how your character will approach the story unfolding.  You see, you can initially choose between two characters, a fairly happy-go-lucky young girl who is a wonder with her twin axes, or a haughty and arrogant wizard who believes that all lives, even his own, are fuel to be added to the equation  that leads to victory.  Only by mastering both of these paths can you unlock a secret, third playable character,
The gameplay is fantastic Ys action arcade RPG mechanics.  Even lesser enemies need some level of respect  so that they don't respawn and decimate your party when you least expected it.
I'm doing my first playthrough as Hugo Fact the Mage, who is…kind of a pompous asshole during the entirety.  That said, unlikability of Hugo aside, I have very much enjoyed sinking my teeth into the meaty combat system in YS.  Hugo definitely controls like a squishy mage in this type of action rpg – keep him away from the action and shoot away, and if the enemies close in, move away!  It is satisfying, in its own way, just as I am confident the playthrough with the melee character will as well.  Then we get to see who the mystery third character is going to be and play as.
Thus far in my insomniac playthrough with Hugo, I have overall been pleased.  As we have discussed, Hugo is not a pleasant character to have as an avatar, but his combat style is diversified, challenging, and rewarding.  My hopes are that playing through with the other characters will prove just as amusing! – EWE