"My brother, War, stands falsely accused of unleashing

Armageddon upon the human race. His fate concerns me. Yours…does not." –

Death
Big brothers fix things, humans. It doesn't really matter what else there is to a sibling relationship – when you boil it down to its essence, big brothers see their younger siblings in trouble and their first response is "what do I need to do in order to make this better?" So it is for the oldest brother of the Four Horsemen of the Apocalypse, Death – his little brother, War, has gotten himself into some deep shit, and so Death rides forth to try and fix things.
Darksiders II takes place at an interesting place in the series' timeline. During the prologue/tutorial of the first Darksiders game, horseman War unwittingly brings about the doom of mankind by responding to a fake-out on the apocalypse and thus allowing armies of angels and demons to wage war across a woefully unprepared Earth. In the aftermath, War is killed in battle and some nebulous amount time passes with him passes with him being held in torturous captivity by the Charred Council before eventually being returned to life and sent to discover who had tricked him into riding before his appointed time. Darksiders II is set during this time of War's captivity and torture, essentially making it an interquel between the prologue and game proper of Darksiders. Death, upon hearing of his brother's plight, has a natural big brother's instinct to fix things for his younger sibling. In this case, Death has decided that "fixing things" means resurrecting the entirety of the human race and basically invoking a cosmic-level "no harm, no foul" defense to the Charred Council.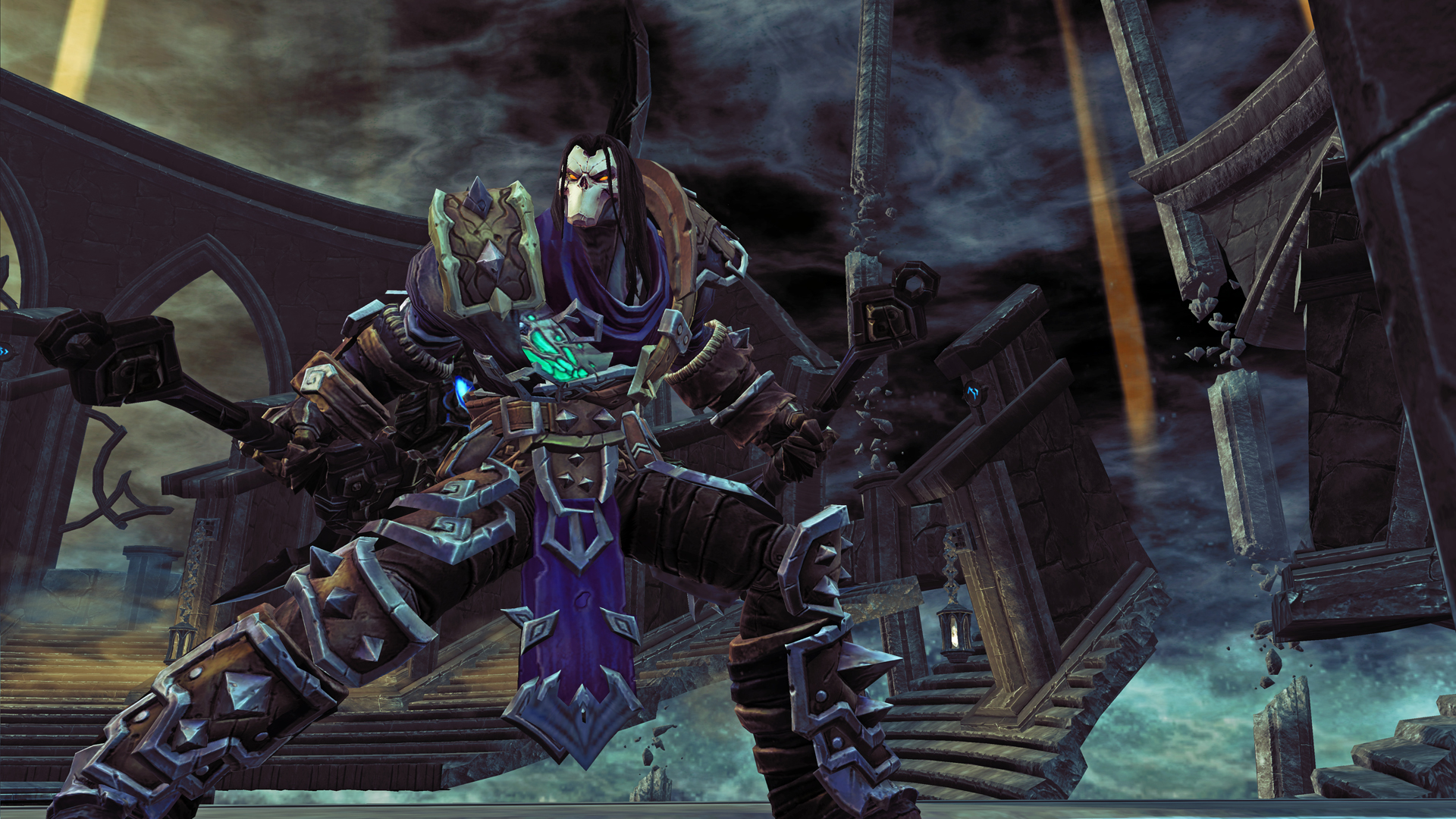 The original Darksiders was a hit with fans and critics for taking the exploration and combat mechanics of action and action-adventure games like God of War and The Legend of Zelda, melding them, and building a dark fantasy world from the mind of comic book master Joe Madureira in which the armies of Heaven and Hell are in a kind of temporary cease-fire, maintained by the mysterious Charred Council and their enforcers, the powerful Four Horsemen. Feared and respected by all creatures in existence for their power, but seemingly easily manipulated, Darksiders II expands upon the background and origins of the Horsemen. They are not angel, demon, or human; they are the last of the nephilim, a cosmically overpowered race that conquered and destroyed countless worlds across the cosmos, threatening the very Balance that the Charred Council uneasily maintains between angels and demons. Four of these beings saw the destruction and carnage being wrought by their kind and began to sour on it; these four went to the Charred Council and were granted unbelievable power in exchange for their service to the Council and the Balance. The first task given to these newly-christened Horsemen was the complete and total destruction of their kind – a grim task which they completed. It was Death himself who struck the final blows of that battle, and as well it was only Death who seemed somewhat remorseful of the genocide they had perpetrated against their own kind. Perhaps it is for these reasons that now, millennia later, he cannot stand by and watch either the loss of another entire race in humanity, nor the loss of his brother War, one of the final four surviving nephilim.
For Death, the scars of his soul are reflected in his flesh – rather than destroy the souls of the nephilim, as he was instructed, he preserved them in an amulet that early in the game becomes fused with his very body, leaving a glowing green wound upon his chest and the cacophony of the souls of his brethren in his mind. As he pursues his goal of exonerating his brother War with single minded purpose, forces are at move in the universe that will pull Death in two between saving his brother or saving his own soul. It is a remarkably well told story that is made immensely greater by the fantastic voice acting. Death, in particular, is never, EVER at a loss for a deadpan snark. As a connoisseur of sarcasm myself, Death shot into the upper tier of my favorite game characters of all time. And he isn't just fun to listen to; he's a blast to play as well.
While War controlled with a sense of weight and power, as lumbering brute that devastated enemies with overwhelming power, Death weaves a fast-paced dance macabre in combat that takes everything that was great about the first game, eliminates the negatives, and accentuates the best parts. Instead of the gigantic sword Chaoseater wielded by Way, Death's default weapon is his twin hand scythes. There are light and heavy attacks, as in the original, and as in the original these can be combined and strung together into various chains that result in combo moves of tremendous strength and fluidity. If you played the original Darksiders, you may have gone the entire game not realizing that War could actually block enemy attacks. Darksiders II seems to have noticed this, and in keeping with his faster-paced combat style, Death cannot block incoming blows – he must dodge them. The dodge mechanic is tremendous with an adequate window and sufficient enemy ques to make the dodging feel like a natural reaction. A successful dodge often opens up enemies to a furious counterattack, and before long you will find yourself right at home weaving in and out of a pack of enemies, slicing them to ribbons and crushing them with heavy attacks from secondary weapons such as a gigantic hammer or polearm.
Darksiders II retains its predecessors gameplay loop of finding new tools and devices to give you additional ability to explore the dungeons and world and find new secrets, but it expands by introducing a randomized loot system not unlike the Diablo titles. Every enemy slain or chest opened can explode into a shower of gold, weapons, and armor, with enhanced elemental or stat boosts.  This loot can range from being near-worthless vendor trash to epic or legendary named armor or weapons. Additionally, rather than buying skill upgrades from Vulgrim this time around, Death has two separate skill trees, Harbinger for melee damage and Necromancer for arcane damage, into which he can invest skill points gained from leveling up and completing some quests. This gives a game like Darksiders II tremendous replayability as you can experiment with different class builds and equipment loadouts. While the loot system suffers eventually from the same feeling of diminishing returns that is present in all such systems, all the elements come together to create a tremendous action-adventure-RPG.
The Deathinitive Edition includes all of the DLC released for Darksiders II, adding several new full dungeons and quests, as well as the Crucible, a 100-wave series of arena battles that take skill and resource management to fully complete. It just adds even more value to an already content-rich game. In all honesty, mortals, if you played the first Darksiders and enjoyed it (and if you didn't, it's not the game, there's something wrong with you) then you will absolutely love Darksiders II. One of the best games of the PS3 era that was perfectly remastered in the Deathinitive Edition and is a must play for anyone that likes fast-paced action and a huge world to explore. It is truly fantastic that the franchise was resurrected by THQ Nordic and I can't wait to move on to Darksiders III.
Until next time, mortals! – EWE